Comptron provides a fully integrated system designed by people who have been dealers themselves and have been involved in the business for over 25 years.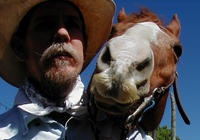 Slim Tighe
Vice Chief Deputy Assist. Engineer of Pest Control
I'm dedicated to finding & eliminating bugs, thereby bringing increased productivity & happiness to our customers.
Favorite Foods: Steak, Chili Verde, Raspberry pie

Favorite Pro/College Teams: U of A Wildcats (Basketball)

Favorite Song: Arizona Mountain Home

Favorite Animal: Birds, Dogs, Horses

Favorite Activity: Fishing, Hunting, Camping & Making Music

Country You'd Most Like to Visit: Peru

What If You Had a Week to Yourself: I'd go camping with my Wife.

Additional Thoughts: I love this place.