Comptron provides a fully integrated system designed by people who have been dealers themselves and have been involved in the business for over 25 years.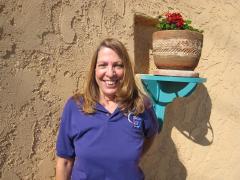 Sharon Page
Customer Service
I joined the Comptronites on Thanksgiving Day in 1999, during the Y2K crisis. I had been working with a Cancer Treatment Center for 3 1/2 years when my brother (Gayland) persuaded me to come here, but I am still very active in Relay for Life, to help those touched by cancer.

Favorite Foods: Seafood, BBQ

Favorite Pro/College Teams: The Underdog

Ford, Chevy, or Mopar: What's a Ford or Mopar?

Favorite Song: It's a mood thing. Easy soft stuff while I'm doing mental work and Rock & Roll when I'm working out.

Favorite Animal: My 16 1/2 year old toy poodle (KC) who thinks she is the boss

Favorite Activity: If it's outdoors, it's all fun

Favorite Car of All Time: My 1970 El Camino

Favorite New Car: Haven't really thought about it. Maybe Nathan's Limited Edition Z06 Vett.

Favorite Motorcycle of All Time: The one with me on the back.

Favorite New Motorcycle: The one with me still on the back.

Country You'd Most Like to Visit: I would love to see Australia

What If You Had a Week to Yourself: The BEACH

Additional Thoughts: I'm sorry competition, but Comptron has a real person answering every call and you are never sent to a mailbox. We will take care of you personally. Comptron continues to develop and enhance the Comptron modules, especially F&I. It is so exciting! I love what I do and where I am! Thank you Comptron!