Comptron provides a fully integrated system designed by people who have been dealers themselves and have been involved in the business for over 25 years.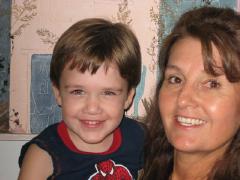 Elisabeth (Lis) Yarbrough
General Manager
I became acquainted with "Comptron" in 1983 before it was "Comptron" and had the privilege of working closely in development with the founder Noel Yarbrough. I enjoy all the different aspects of Comptron, however my greatest joy comes from helping our customers and playing with the children.
Favorite Foods: German Cheese Spatzle, Wienerle with German potato salad and most Mexican food.

Favorite College Team: Arizona Basketball

Pro: Tiger Woods, Roger Federer, Maria Sharapova, Phoenix Suns, Arizona Diamondbacks, NASCAR: Dale Earnhardt Sr. & Jr.

Favorite Song: John Phillips Sousa's Instrumental "Stars & Strips Forever"

Favorite Animal: Dachshunds and Parrots

Favorite Activity: I Totally enjoy: Being in a golf gallery watching my Nephews or Tiger Woods, Playing Tennis, Hiking, Snorkeling

Favorite Car of all time: My 67 VW Bug

Favorite New Car: The Smart Car

Country You'd Most Like to Visit: Victoria Canada, Germany Bavaria, Australia

What If You Had a Week to Yourself: Go to the Masters and see Tiger Woods play and win, Spend two days at the Australian Open watching all I could see, Snorkel on the Australian reef, Hike in the German Alps and see Alpenrosen, Paint the walls in the house different colors fairly often

Additional Thoughts: Working at Comptron and meeting fellow workers as well as customers has been an absolute blast!