Comptron provides a fully integrated system designed by people who have been dealers themselves and have been involved in the business for over 25 years.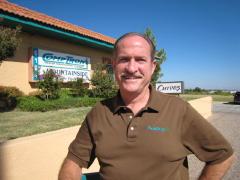 Gayland Yarbrough
Chief Bottle Washer
I've been involved with Comptron since 1985 and love working with the current staff, we have a lot of fun. They are top notch people, the best we've ever had. I am honored to work with my wife, one daughter, two brothers, one sister, one sister-in-law and the rest are dear friends.

Favorite Foods: Homemade Ice cream, Pudding, Sushi and Mashed Potatoes

Favorite Sport(s): Arizona D-Backs Baseball and Arizona Wildcats Basketball

Ford, Chevy, or Mopar: GM, Pre-42 Ford, All Muscle cars

Favorite Song: Southern Gospel

Favorite Animal: One that doesn't lick me

Favorite Activity: Dirt Bikes, Water Sports, Cruising of any kind

Favorite Car of All Time: 35 Hudson and 65 GTO

Favorite New Car: Viper

Favorite Motorcycle of All Time: Valkyrie

Favorite New Motorcycle: I still like my Valkyrie

Country You'd Most Like to Visit: Australia

What If You Had a Week to Yourself: Skin Diving & Beach Bumming

Additional Thoughts:

: This is the best supported, most bullet proof system on the market today.