Comptron provides a fully integrated system designed by people who have been dealers themselves and have been involved in the business for over 25 years.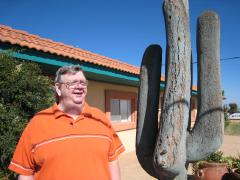 John Stephens
Programmer
I have returned to the scene of the original crime, my hometown of Sierra Vista, AZ. It's just my brother and I and wouldn't you know, we're working for the same company. My 3 kids are in Phoenix & San Diego. I've been at Comptron for going on 11 years . I co-ordinate & administer the Product Source Code and Product Releases. I'm a programmer and perform maintenance of the software in many areas, mostly in Parts & Service. Every now & then I stray into F&I, Forms printing and the Report Generator.
Favorite Foods: Steak

Ford, Chevy, or Mopar Chevy

Favorite Song: I am, said I....

Favorite Animal: Dog

Favorite Activity: Project Development

Favorite Car of All Time: 1964 Malibu, 260 HP 283, 4-on-the-floor.

Favorite Used Car: My Silverado truck

Country You'd Most Like to Visit: France, maybe Russia

What If You Had a Week to Yourself: I do, every week I chose to do what I want.