Comptron's Parts Tools can take the stress away.
Comprehensive Inventory Control!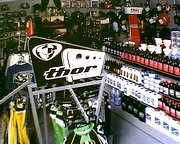 With Comptron, you'll have instant access to accurate, precise information:
Total dollar value of inventory by vendor
Complete 3-year month-by-month history on the movement of every part.
Easy addition of new parts
End-of-day summary report showing total parts reconciliation
That's just the tip of the iceberg. You'll have every piece of information needed to make sure the parts are there when you need them. And you won't keep stocking parts that don't sell.
Communicate with Manufacturers - Automatically!
When the time comes to order, Comptron makes it easy with:
Automatic on-line ordering with vendors. Eliminate human error.
Over 135 Manufacturers price books available.
You have control of how catalogs are priced!
Suggested stock levels based on movement.
Complete Purchase Order control.
Realtime, Automatic updating of quantities, when sold or received.
Easy tracking of backorders, cancellations, cross-shipments or reordered parts.
It doesn't stop here. Special order processing provides 13 separate, vital functions for proper recording and tracking. Valuable functions to help better serve your customers and employees. Comptron helps eliminate errors and waste while saving time.
Comptron can make your Parts department Lean, Mean and Lucrative!
Take a quick look at your parts and accessories department and ask yourself these questions:
Can I quickly determine which parts to stock and how many?
Can I know in time what effect the changes in seasons and fads will have? Which items have become obsolete?
Which parts must I never run out of?
Which special ordered parts should I be stocking?
Which parts haven't moved in three months? Six months? Years?
Did you order too many or not enough?
What about price changes?
Employee theft?
Do employees compute discounts and tax properly?
Can you answer most customer questions in 4 seconds or less?
Which items need to be and can be returned to the Vendor?
How long will it take to make the return list?
Is there a difference between markup and profit?
Where are you going to find all this help?
Am I stocking the products my customers want?
Can you look-up a part, check pricing, on-hand qty. and print a receipt in 4 seconds?
Call Comptron now at 1-800-266-7876